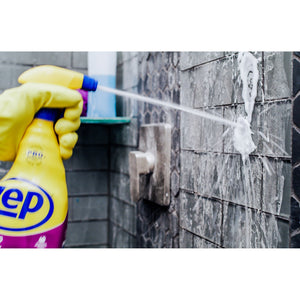 STEP 1
Spray Zep Shower, Tub, and Tile Cleaner onto vertical and horizontal surfaces.  For severe buildup, scrape away loose material before applying cleaner. 
STEP 2
Wait just two to three minutes.  The foam formula will stick to the surface to break up rust, soap scum and other buildup. 
STEP 3
Wipe with a damp sponge and rinse well.  Pro Tip: Not all surfaces are bleach friendly.  Rinse workspace thoroughly and carefully to avoid unsightly marks. 
---