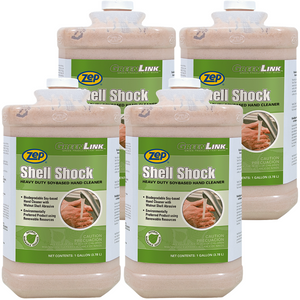 Shell Shock is a heavy-duty industrial strength hand cleaner that is biodegradable and made from renewable resources.  It utilizes the natural cleaning power of soybean solvents and abrasive power of walnut shells to clean the toughest grime and grease. Shell Shock is a member of the Zep GreenLink line of Environmentally Preferred Products (EPP) because it is free of petroleum solvents, which can harm the environment.
Shell Shock removes stubborn soils such as grease, tar, resins, paints, adhesives, carbon, asphalt, and inks.  Because Shell Shock is enriched with skin softening ingredients, it leaves hands soft and keeps them from drying out.
It is the perfect solution for the Industrial, Automotive, and Transportation industries, including school bus fleets and mass transit.
---