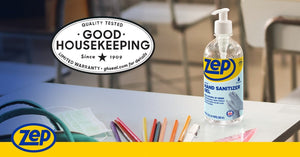 ATLANTA – (June 1, 2021) Zep, Inc. is proud to announce we have earned the Good Housekeeping Seal for our Instant Hand Sanitizer Gel, an FDA-compliant product formulated in the USA with 70% alcohol that helps control many of the microorganisms that are of public health concern and kills 99.99% of germs in as little as 15 seconds.
Zep has an 80-year history as a provider of cleaners, disinfectants, and solutions-oriented programs tailored to customer and consumer needs. This new and improved hand sanitizer addresses the most common consumer concerns with many hand sanitizers, including having a clean scent and leaving hands feeling clean with no residue while at the same time protecting the user from harmful germs.
"After rigorous evaluation by the Good Housekeeping Institute, we are honored to receive the Good Housekeeping Seal for our hand sanitizer gel," said Dan Smytka, Zep Chief Executive Officer. "Being backed by the Good Housekeeping Seal provides our customers with an extra level of confidence in their purchase. This is just one of the ways we make the planet safer, cleaner, and more productive.""
Introduced in 1909, the Good Housekeeping Seal is a longstanding symbol of trust and reliability for millions of consumers. The Good Housekeeping Institute tests thousands of products using state-of-the-art lab equipment as well as feedback from consumer testers in categories such as automotive, household, beauty, clothing, cleaning tools and more. If any product that bears Good Housekeeping's limited warranty Seal proves to be defective within two years from the date it was first sold to a consumer by an authorized retailer, Good Housekeeping will refund the purchase price or $2,000, whichever is less or, at Good Housekeeping's sole discretion, repair or replace the product.
"Due to the pandemic, this past year we have seen many hand sanitizer brands pop up from nowhere and some have come under the scrutiny of the FDA for having subpotent levels of actives or dangerous contaminants. Zep, with its 80 plus years in providing cleaning products and services, impressed us with its commitment to excellence in consumer safety and product efficacy," said Birnur Aral, Health, Beauty and Environmental Editor for the Good Housekeeping Institute.
Zep Instant Hand Sanitizer Gel is available in stores including Home Depot and Lowe's, and online at Amazon.com or buyzep.com, or via a Zep representative.
About Zep, Inc.
Zep, Inc. is a leading innovator, producer and distributor of maintenance, cleaning, and sanitation solutions for food and beverage, industrial and institutional, retail, and vehicle care customers. Zep possesses a large portfolio of premium brands built over an 80+ year legacy of developing the most effective products trusted by professionals and consumers to get the job done right the first time. To learn more, visit www.zep.com.
About Good Housekeeping
Celebrating 135 years, Good Housekeeping (GoodHousekeeping.com) is a leading lifestyle media brand inspiring a monthly audience of 45 million readers. The Good Housekeeping Institute's state-of-the-art labs combined with Good Housekeeping's seasoned editorial talent is unparalleled. Staffed by top engineers, scientists and technology experts, the GH Institute tests and evaluates thousands of products each year for the magazine, website and for the Good Housekeeping Seal and the Green Good Housekeeping Seal, which are among the most recognized and trusted consumer icons in the world today. Good Housekeeping, which also has five international editions, is published by Hearst Magazines, a unit of Hearst, a leading global, diversified media, information and services company. Follow Good Housekeeping on Facebook, Instagram, Twitter, and on Pinterest.
###
Media Contact:
Amber Rice
Amber.Rice@zep.com
(470) 795-8108