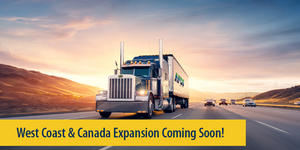 ATLANTA — (May 24, 2021) AFCO, a Zep, Inc. Company, announces investments in operations on the West Coast, expanding production and distribution capacity to better serve food and beverage processors in this area. AFCO, a leading food safety and biosecurity specialty chemicals company, is adding capabilities in Kingman, Arizona, and Idaho. This will provide the west coast food and beverage processing industry increased access to the full portfolio of AFCO packaged and bulk cleaners, sanitizers, and peracetic acid.
The new facilities in Arizona and Idaho will bring new skilled employment opportunities to our host cities and better position AFCO to serve our customers across the western United States.
"This investment is responsive to requests from current customers to expand AFCO services. We look forward to building new relationships in the western part of the U.S. and working alongside our customers to provide technical service and support of sanitation and safety programs," said Bob Klinetob, senior vice president and general manager of AFCO. "This expansion solidifies our customer commitment to 'promise and deliver' coast to coast."
As a leader in the food and beverage processing industry, AFCO provides a comprehensive program of customized reports and tracking, training, water treatment, a full product portfolio, equipment, and innovation to help customers mitigate risks and control costs.
"I'm excited to continue the vision of AFCO—building out manufacturing and distribution capability in Arizona and Idaho," said Jim Weathers, chief value chain officer of Zep. "Our entire West Coast AFCO team will have state-of-the-art manufacturing and logistics that they can depend upon, as we mirror the strong capabilities that we've built east of the Mississippi."
To learn more about AFCO products and services visit afcocare.com or contact our sales team at (800) 345-1329 or support@afcocare.com.
About AFCO
AFCO, a Zep, Inc. Company, focuses on food safety through local SQF & HACCP-educated Reps who provide technical service and support through the Assure™ Sanitation Program. AFCO offers high-quality food industry cleaners and sanitizers, antimicrobial intervention, biofilm removers, equipment systems, and more.
About Zep, Inc.
 Zep, Inc. is a leading innovator, producer, and distributor of maintenance, cleaning, and sanitizing solutions for food and beverage, industrial & institutional, retail, and vehicle care customers. Zep possesses a large portfolio of premium brands built over an 80+ year legacy of developing the most effective products trusted by professionals and consumers to get the job done right the first time. Together, AFCO and Zep provide all the products and services needed to keep a food or beverage processing facility operational.
###
Media Contacts:
Shay Bustamante
Shay.Bustamante@zep.com
(770) 767-2266
Amber Rice
Amber.Rice@zep.com
(470) 795-8108