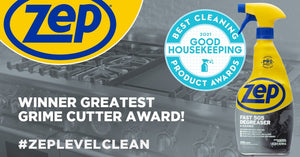 ATLANTA – (August 17, 2021) Zep's Fast 505 Degreaser & Cleaner has been recognized as a top cleaning product with the announcement of the 2021 Good Housekeeping Cleaning Awards – winning Greatest Grime Cutter in the Brilliant Bath & Beyond Category.   
Zep's Fast 505 Degreaser & Cleaner helps users easily remove grease, lubricants, oils, and foods from most surfaces. This professional grade, fast acting degreaser quickly dissolves soils in garages, shops, and outdoor areas.
According to Good Housekeeping, each winning product was assessed by the experts at the GH Cleaning Lab and GH Institute, along with almost 70 consumers testers.
The team at Good Housekeeping used Zep's Fast 505 on grill parts, workshop tools and a grease-splattered oven door and found that it worked quickly with little scrubbing, and it's safe for many surfaces, both indoors and outside.
"Good Housekeeping's test and evaluation process is universally known for setting the standard for product excellence," said Gary Gastel, EVP Chief Marketing & Digital Officer. "We are pleased our Fast 505 was recognized for its effectiveness and continues Zep's legacy of producing trusted products for both professionals and consumers.
"Zep's Fast 505 Degreaser and Cleaner was hit with our cleaning experts and consumers," said Carolyn Forte, Director of Good Housekeeping's Cleaning Lab. "It worked quickly and safely to melt away grease that other products couldn't budge from grills, ovens, and more."
To learn more about the 2021 Good Housekeeping Cleaning Awards, and to see Zep's Fast 505 Degreaser & Cleaner along with the other winners, please visit https://bit.ly/2UrL303. To purchase Zep's Fast 505 or other Zep products, visit www.buyzep.com. 
About Zep, Inc.
Zep, Inc. is a leading innovator, producer and distributor of maintenance, cleaning, and sanitation solutions for food and beverage, industrial and institutional, retail, and vehicle care customers. Zep possesses a large portfolio of premium brands built over an 80+ year legacy of developing the most effective products trusted by professionals and consumers to get the job done right the first time. To learn more, visit www.zep.com.
About Good Housekeeping
Celebrating 135 years, Good Housekeeping (GoodHousekeeping.com) is a leading lifestyle media brand inspiring a monthly audience of 45 million readers. The Good Housekeeping Institute's state-of-the-art labs combined with Good Housekeeping's seasoned editorial talent is unparalleled. Staffed by top engineers, scientists and technology experts, the GH Institute tests and evaluates thousands of products each year for the magazine, website and for the Good Housekeeping Seal and the Green Good Housekeeping Seal, which are among the most recognized and trusted consumer icons in the world today. Good Housekeeping, which also has five international editions, is published by Hearst Magazines, a unit of Hearst, a leading global, diversified media, information and services company. Follow Good Housekeeping on Facebook, Instagram, Twitter, and on Pinterest.
###
Media Contact:
Amber Rice
Amber.Rice@zep.com
(470) 795-8108